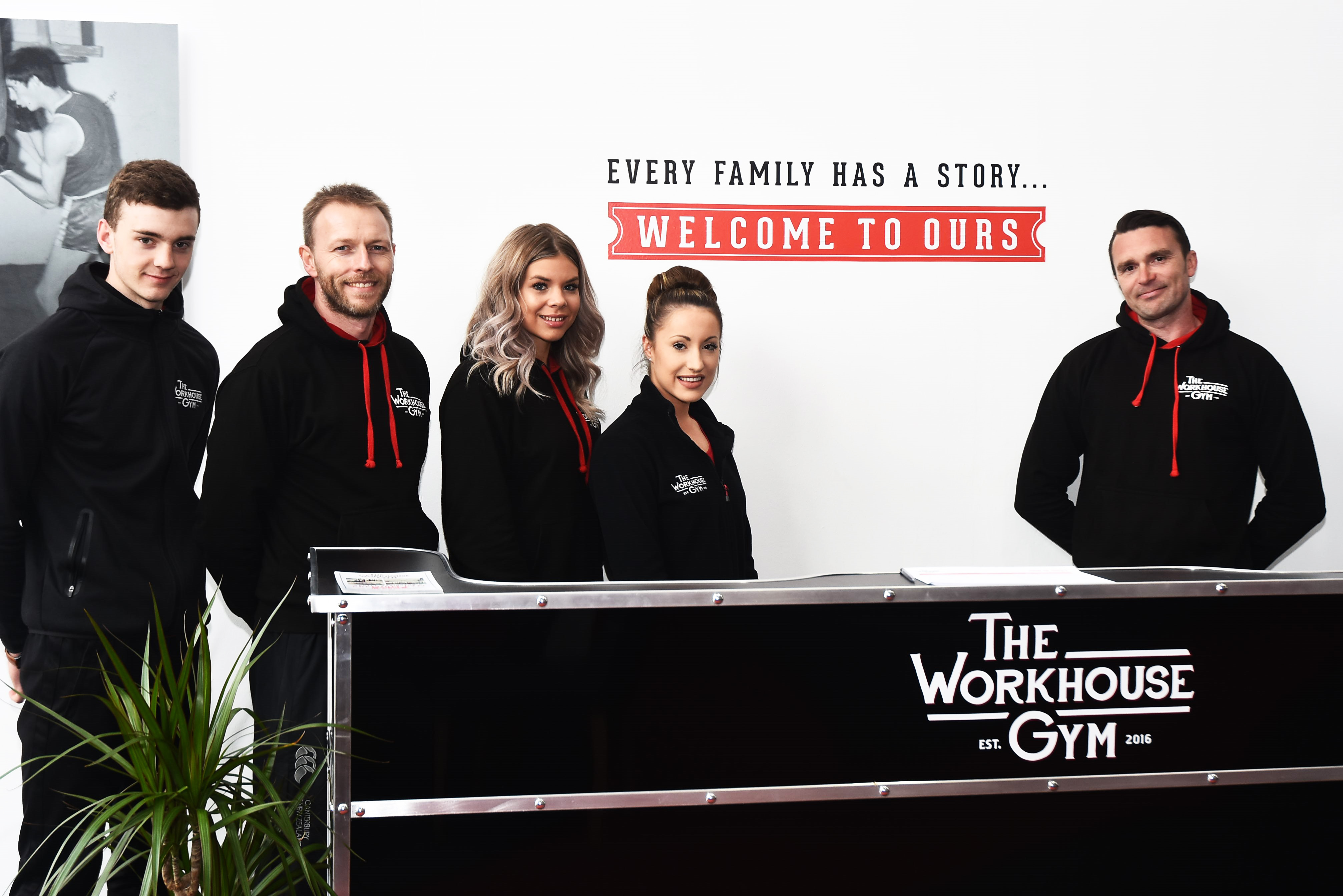 "I always had the idea of a gym in the back of my mind, but I wanted to do it differently," says Mark Lole, casting his eyes around his newly opened The Workhouse Gym in Castle Donington. Working closely with site owners PMW Property, Mark has been able to create the space he wants for his customers now with room to grow in the future, turning his vision into a reality.
"Castle Donington is a big community," Mark adds, "and this is becoming a social place full of atmosphere. There is a strong industrial heritage in Castle Donington and we've tried to give a flavour of that with some of the black and white photos around the gym, but with a modern twist.
"Membership is already ahead of where we expected to be at this stage, ahead of where other gyms in Derby have been at this stage in their development. We want the opportunity to expand within our building, and that's what we have, to grow with our membership and listen to what our membership wants."
Mark's experience as a fitness instructor in the Royal Marines has been put to good use since returning to civilian life. Whilst with the Derbyshire Fire Service, Mark has also qualified as a personal trainer and has helped to train applicants to pass the physical test required to join the forces. Every individual, though, has different targets and, with The Workhouse Gym being the first premium gym in the area, Mark is keen for it to work at all levels.
"I have been training my whole life and trained with, and under, some of the best and most qualified instructors in the country, gaining a vast amount of experience training people of all back grounds. My professional life of 12 years has been spent in very physically-demanding jobs where I've had to maintain a professional standard of fitness as a Royal Marine Commando, fire-fighter and professional fitness instructor. In all roles I have made sure my physical fitness is second to none.
"I take great joy in helping people from any level fitness to become fit and healthy, nothing pleases me more than seeing a client achieve their goals. I work very closely with my clients to make sure they get the most from their training. We need to tackle obesity and provide health and nutritional advice, there has to be a balance of proper healthy nutrition, safe effective exercise, rest and relaxation."
The Workhouse Gym is equipped with high quality equipment from the United States to create the experience you would find in a private health club in London, a premium gym at affordable prices.
The main gym features cardio equipment, a boulder wall and a functional training area, together with two Olympic lifting platforms. The facility also has a treatment room, a dedicated weights room and a dance studio which is already hosting 25 classes a week for a range of activities including pilates and zumba with plans to offer Les Mills body pumping and body combat sessions. Derby martial arts expert Sai Varley will run the gym's martial arts programme. A spinning room is also planned for the cycling fraternity and an outside training area to make the most of warm summer evenings.
Mark has been joined in his new venture by Gym Manager Neil Hawksworth. "I have previously worked with Mark but I concentrated on rehab and injuries while Mark went towards Personal Training. When Mark told me of this project, I jumped at the chance to take on this role." Mark and Neil are supported by a young, enthusiastic and knowledgeable team, Ellison, Jordan and Hayley, qualified to various levels but all seeking to further their development, and Connor who is doing his apprenticeship with the gym.
The Workhouse Gym, which opened in March, has seen a steady rise in membership from Alvaston and Kegworth to Melbourne. The gym has also attracted corporate membership from the local business community, recognising the advantages of a healthy workforce.
"A good gym has always been needed in Castle Donington," says Mark, "but finding the right building is not easy. We found the landlord, PMW Property, through ceramic artist Paul Cummings. He put us in touch with Matthew Wrigley and Matthew has helped to make this vision a reality."
"The transformation of the property is fabulous," said PMW Property's Matthew Wrigley. "If you had seen it before the makeover, you would be amazed. When Mark first put his suggestion to me I was slightly apprehensive. PMW Property have owned this building for around 20 years now and it has always seen heavy industrial use, changing it to a gym certainly wasn't something that I had considered.
"The time and effort Mark and his team have put into this project has been amazing," Matthew added. "I hope we at PMW managed to make the process as easy as possible for them. Although we work very closely with every tenant of ours this has certainly been one of the most rewarding schemes I have been involved in. I've been very impressed with Mark's professional approach and attention to detail and wish him all the success he deserves.'
For more information please visit theworkhousegym.co.uk or call01332 850189.