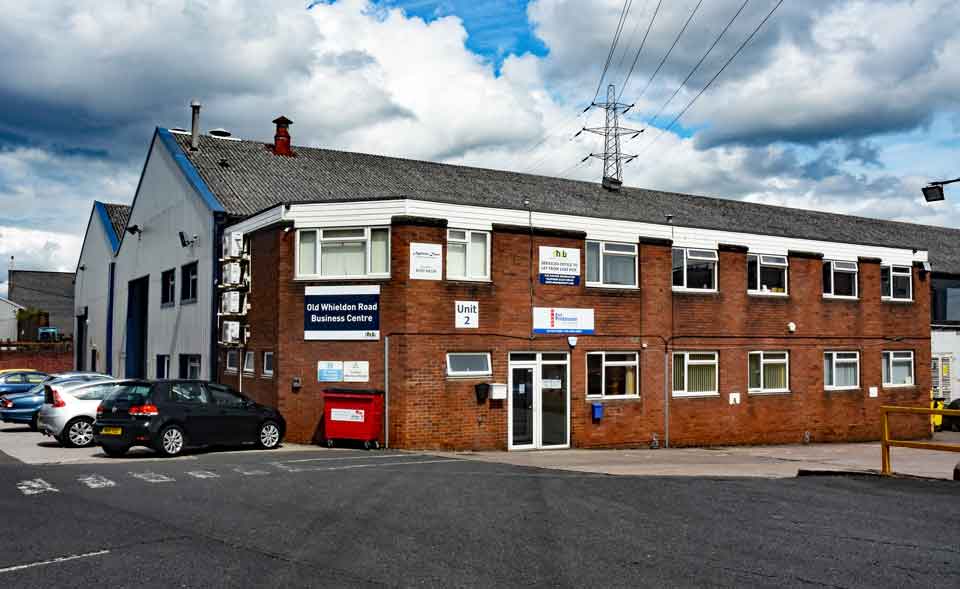 SERVICED OFFICES WITH GOOD TRANSPORT LINKS ARE POPULAR WITH PMW'S TENANTS
PMW Property's serviced offices at Old Whieldon Road in Stoke-on-Trent, are proving very popular. Established and new businesses are delighted with the move to the site and the service provided by PMW.
PMW Property, based in Ashbourne, Derbyshire, purchased the Old Whieldon Road site in 2008 as a part-occupied investment. The majority of the site was, then, occupied by Boards Products Ltd but a scheme of refurbishment undertaken on the empty units quickly attracted interest from a number of parties. The estate has since proved a popular location for a number of businesses including transport companies who enjoy the excellent links to the A50 and the motorway network including the north and southbound M6.
"We love it here!" says Ray Podmore, owner of Ray Podmore Contract Services Ltd. "It's brilliant and suits us down to the ground. We have more room and have extra desks in, should we need them as we have a couple of contractors who come in and do quotations for us.
"We service the mining and quarrying industries, supplying loading shovel drivers, dozer drivers and plant operators together with civil engineering within the quarry industry." With almost 30 staff across the country, Ray says good transport links are essential. "We also run Shardlow gravel pit, at the top of the A50 in Derbyshire, on behalf of Hanson Aggregates."
Ray was ahead of the game when the quarry industry adopted PICS registration in 2012, a massive change in Health and Safety policy and policing of the approved supply chain. "Some of the people who didn't enter into the registration didn't realise what was going to happen.
"The first phone call I had was from a local quarry who had just ordered 22,000 litres of fuel only to find the supplier is not registered. Could I please help out and supply the diesel? Commodity suppliers eventually got back onto the procurement list, but the small operators – builders, plasterers, and so on, never met the criteria because they were too small.
"They now all come through us. I've been doing it for 38 years and I was a contractor before that. They're all friends, they rely on you so much and we're a one-stop-shop. If someone has a problem they ring us. We organise local contractors that we've vetted, that's what we do nationwide."
Ray moved his business to Old Whieldon Road at the beginning of 2016. "We outgrew our previous property and needed somewhere more efficient, more centralised," he adds. "The estate where we were was a nightmare trying to get on and off. This is ideal with plenty of parking spaces, more open and on the ground floor with plenty of natural light. It's very lively and vibrant. Even our accountant works upstairs, who we rented a room to on the other estate!"
With a number of small businesses using the serviced offices, a kitchen provides the facility for refreshments and a space for lunch away from the office together with the opportunity to
interact with other tenants. Meeting rooms are also available.
On the first floor Love Home Improvements have taken a suite of offices as the fledgling business is growing rapidly. Launched at the beginning of 2016 by Keiron Williamson and Ben Byrne, they soon found they needed a permanent base. "We were working from my house for a few months and moved here when we got established," says Keiron. "This is brilliant, loads better. It's ideal with all the suppliers around here."
The Old Whieldon Road site has plenty of space for their switchboard team and planners to handle an ever-increasing number of enquiries. "At the moment we cover Staffordshire and Cheshire but towards the end of the year we are looking to expand towards north Cheshire – Northwich, Middlewich, Stockport and Manchester and maybe as far south as Stafford," Keiron adds.
"We do everything, really, indoors and outdoor, kitchens, bathrooms, windows, doors, drives, extensions and conservatories. All the fitters work for us, we have a specialist in each department, window fitters, driveway fitters, conservatory fitters and so on. It's a big workforce. We don't use subcontractors, because that's when the quality of the work suffers."
Keiron and Ben looked around before choosing to move to PMW's offices at Old Whieldon Road. "We looked at a couple of properties and this was bigger, the price was better and a much better location. Location is good for the roads and bus routes are simple for the staff, so it's ideal, really."
"We have a great relationship with out tenants," say PMW Lettings Manager Rachel Walton. "Everyone here gets on so well and there is a great atmosphere and they are so well looked after by our cleaner, Beryl."