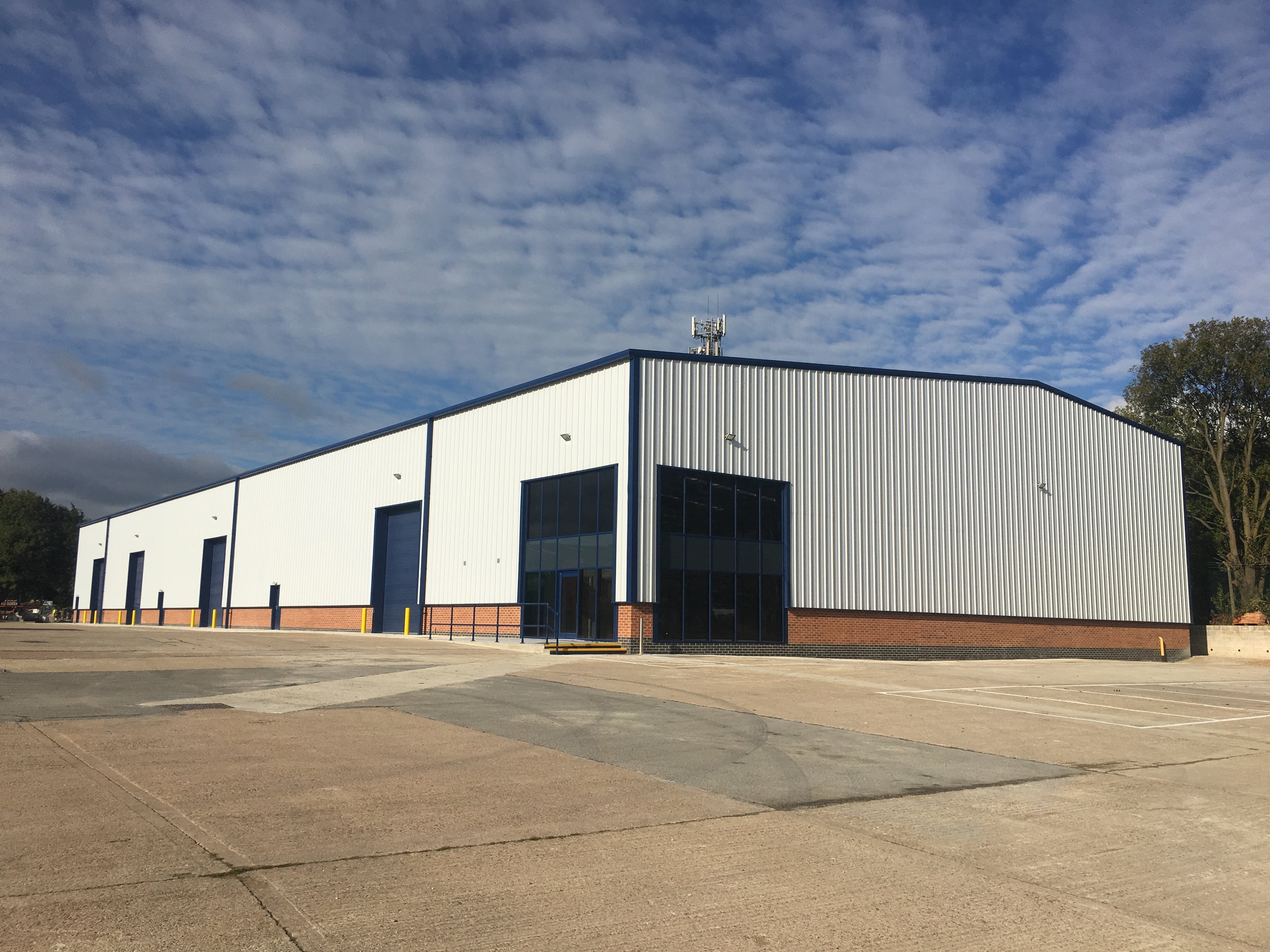 PMW Property Developments has just completed the building of a new 30,000 sq ft development on their West Way site on the Cotes Park Industrial Estate at Somercotes, Derbyshire. The new development complements its existing tenanted units on the West Way site and is ideally suited to manufacturing or warehouse distribution with its excellent links to the transport network. The A38 trunk road is just minutes away, providing easy access to the M1 motorway or the West Midlands and South West.
The Ashbourne developer acquired the site in 2013, refurbishing the 24,480 sq ft Unit 1 to meet the specific internal requirements of Permaroof, a leading manufacturer of butyl roof membranes, which took occupancy early in 2014. Following refurbishment of the two adjacent units, covering 43,628 sq ft, they have been leased to Strata Products for storage of plastic household and garden products. The new development was completed in 16 weeks by Xcel Construction, of Heanor, Derbyshire, and handed over to PMW in mid-September.
The new unit has a thermal efficiency rating of 'A' and is surrounded by ample car parking space and excellent vehicular access. A well-appointed, glazed reception area offers future tenants a wide scope for development. The unit is now available to lease, from PMW, as one large unit or several smaller units. For further details, please contact matthew@pmwproperty.com, jo@pmwproperty.com or call 01335 348145.
PMW Property has built a very successful portfolio of commercial properties, over a quarter of a century, catering for the needs of a range of clients from their headquarters in Ashbourne. The success of the business stems from Mike Wrigley's forward-thinking leadership and having a high regard for the needs of his clients, many whom have remained as tenants for over 20 years.
A key strength of PMW Property is the ability to respond quickly and effectively to the changing requirements of tenants and prospective purchasers. The same care and consideration is afforded all clients, whether they are a small start-up business or a large, established organisation.